How Investors are Trading the Measles Outbreak
---
Unbelievably, measles was a problem in the U.S. again in 2019.
As for April 2019, the U.S. confirmed 695 measles cases for the year.
That's the highest since the country eliminated in 2000, according to the U.S. Centers for Disease Control and Prevention.
In fact, according to the U.S. CDC at the time:
"This current outbreak is deeply troubling and I call upon all healthcare providers to assure patients about the efficacy and safety of the measles vaccine, said CDC Director Robert Redfield. "And, I encourage all Americans to adhere to CDC vaccine guidelines in order to protect themselves, their families, and their communities from measles and other vaccine preventable diseases."
"The high number of cases in 2019 is primarily the result of a few large outbreaks – one in Washington State and two large outbreaks in New York that started in late 2018. The outbreaks in New York City and New York State are among the largest and longest lasting since measles elimination in 2000. The longer these outbreaks continue, the greater the chance measles will again get a sustained foothold in the United States."
If not treated in children, one out of every 20 can get pneumonia, the most common cause of death from measles. About one child out of 1,000 can develop encephalitis (swelling of the brain, which can lead to convulsions and even leave a child deaf).
In short, this isn't something you'd even wish on your worst enemy.
---
Free "Dummies Guide" to Trading Options
Did you know trading options can actually be safer and more profitable than buying and selling stocks?
Best-selling author reveals his simple & safe way to start trading options in this FREE GUIDE. It's 100% free until the end of the month.
---
"We are fighting a disease now in 2019 that should have been off the table in the 1960s with the development of the vaccine," said Dr. Amesh Adalja, an infectious disease expert with the Johns Hopkins Center for Health Security, as quoted by Reuters. "It should be viewed as an embarrassment that so many Americans have turned away from vaccines that we are having a record year for measles."
One of the top stocks to watch with news of the outbreak is Merck (MRK)., which provides the MMR (mumps, measles, rubella) vaccine. At the moment, the company is the sole provider of the shot, and has "taken steps to increase U.S. supply."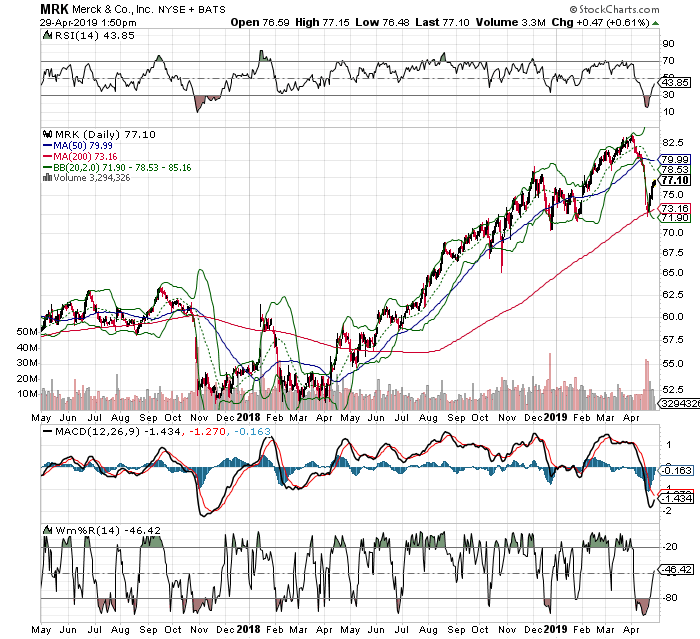 Technically, there's argument for growth in Merck shares, too.
After an incredible pullback, shares of Merck are aggressively oversold at bottom of trend.
In April 2019, not only was the stock at its lower Bollinger Band (2,20), but it was considerably oversold on relative strength (RSI), MACD, and Williams' %R.
It's unfortunate that such a crisis has emerged again. We wish you good health.
Special Bonus Gift: Can You Control 100 shares of AAPL for less than $20 bucks?
That's the power of trading options. In the past, trading options was risky or confusing. Not anymore. This guide – Simple Options Trading For Beginners – reveals a safe, simple and sane way to trade options. Perfect for beginners.