Oil ETFs: One of the Best Ways to Invest in Crude
---
Crude oil prices surged to fresh 2019 highs.
All after the Trump Administration announced that that oil buyers in Turkey, South Korea, China, India, and Japan must end their imports from Iran or face potential U.S. sanctions.
According to The White House, "Trump has decided not to reissue Significant Reduction Exceptions (SREs) when they expire in early May. This decision is intended to bring Iran's oil exports to zero, denying the regime its principal source of revenue."
As a result, West Texas crude futures were up 2.7% to $65.92, the highest since October 2018.
Oil stocks have also turned higher.
---
Free "Dummies Guide" to Trading Options
Did you know trading options can actually be safer and more profitable than buying and selling stocks?
Best-selling author reveals his simple & safe way to start trading options in this FREE GUIDE. It's 100% free until the end of the month.
---
Marathon Oil (MRO) for example gained 6% on the day. Devon Energy (DVN) is up 4%. Exxon Mobil (XOM) gained 2%. Chevron (CVX) gained another 2%.
Each is likely to push higher, given the uncertain end to the latest news.
"Crude markets were taken by surprise today as the Trump administration indicated it WON'T renew waivers that lets countries purchase Iranian oil without facing U.S. sanctions," noted Michael Bradley, equity strategist at Tudor Pickering Holt, as quoted by CNBC. "Many expected that the US would take tougher action on the waiver front, but most DIDN'T expect an announcement of zero waivers."
However, it was not made clear if any of the five countries will be given time to wind down their Iranian oil purchases, or if they would be immediately subject to sanctions, as of May 3, 2019.
While the news does come as a shock, Trump did note that the U.S., Saudi Arabia, and the United Arab Emirates would help keep oil markets "adequately supplied," even as the latest move could remove up to a million barrels a day from market.
Trump is Trying to Force Iran to the Negotiating Table
The White House has also made it clear that it's determined to sustain and expand economic pressure against Iran to hopefully end its threats against the U.S., partners, and allies.
U.S. special representative for Iran has noted that Trump is trying to get a "new and better deal with the Iranians… but it needs to be comprehensive, it needs to include all of the threats that Iran presents to regional peace and security, and the nuclear piece is the most significant," as quoted by the Atlantic Council.
Oil ETFs Allow for Investor Diversification
While we can always look to individual oil stocks as a result of the news, one of the best ways invest and diversify is with an ETF.
Not only does an ETF allow for diversification, you can buy it for less. For example, we can look at the SPDR Energy Select Sector ETF (XLE) for $68.44 a share. If we were to buy 100 shares, it would cost us $6,844.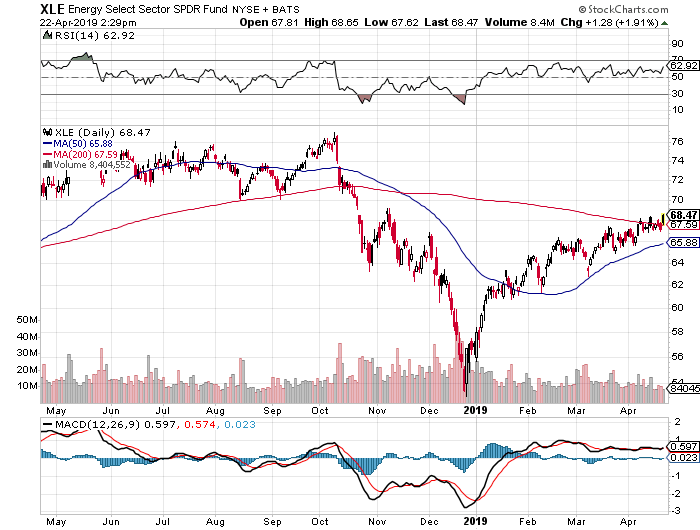 Or, we could look at the SPDR S&P Oil & Gas Exploration and Production ETF (XOP) at $30.40. To pick up 100 shares would cost us $3,278. Or, we can buy each of its holdings, including California Resources Corporation, Oasis Petroleum, Noble Energy, and even Devon Energy for a lot more.
Special Bonus Gift: Can You Control 100 shares of AAPL for less than $20 bucks?
That's the power of trading options. In the past, trading options was risky or confusing. Not anymore. This guide – Simple Options Trading For Beginners – reveals a safe, simple and sane way to trade options. Perfect for beginners.