The Top 3 Catalysts for Gold Prices
---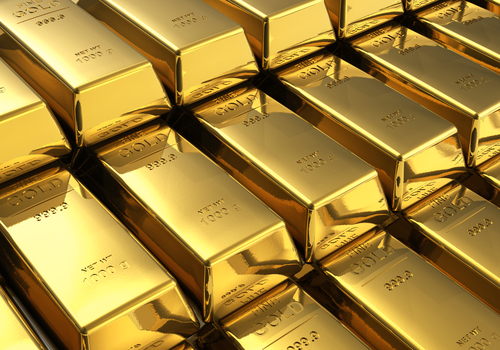 2018 wasn't the best year for gold prices.
Gold slipped from $1,369 to a low of $1,180 that year.
However, gold is just now beginning to push higher on a few catalysts.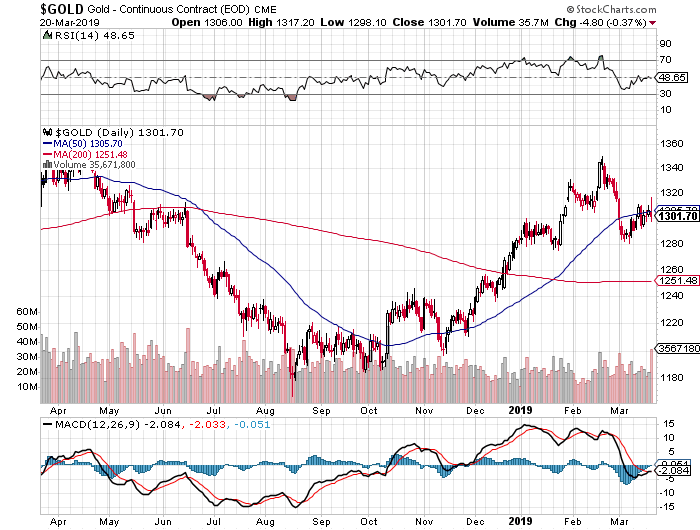 ---
Free "dummies guide" to trading options
Did you know trading options can actually be safer and more profitable than buying and selling stocks?
Best-selling author reveals his simple & safe way to start trading options in this FREE GUIDE. It's 100% free until the end of the month.
---
No. 1 – The Federal Reserve
In December 2018, the U.S. central bank signaled that, for the time being, it was finished raising interest rates following two aggressive years of hikes. That stands in stark contrast to its forecast for at least two hikes in 2019 and another in 2020.
"In light of global economic and financial developments and muted inflation pressures, the Committee will be patient as it determines what future adjustments to the target range for the federal funds rate may be appropriate to support these outcomes," noted the U.S. central bank.
That "patience" from the Fed is a sizable catalyst for gold prices.
No. 2 – Central Banks are Big Buyers of Gold
Global debt just hit a high of $244 trillion, or more than three times the size of the global economy, according to the Institute of International Finance, as noted by MarketWatch.
"The risks and uncertainties created by this debt burden are a part of the reason central banks are big buyers of gold again, says Holmes. Central bank gold buying rose 130% in the fourth quarter, and 2018 purchases came in at 650 tons, according to the World Gold Council. That was the highest level since Richard Nixon was elected in 1968. The World Gold Council thinks central banks could buy even more gold this year."
No. 3 – Supply Shortages
The last boom in gold mine investments peaked about eight years ago.
That's when gold prices peaked, too. So, production is coming down, as demand increases. That alone is quite a catalyst.
That's part of the reason billionaire Sam Zell just invested in gold. "For the first time in my life, I bought gold because it is a good hedge," he told Bloomberg. "Supply is shrinking, and that is going to have a positive impact on the price. The amount of capital being put into gold mines is at most non-existent. All of the money is being used to buy up rivals."
Even Goldman Sachs is bullish on gold prices.
In fact, they just maintained an overweight rating on gold, and raised its target price from $1,350 to $1,425 – a price we haven't seen in six years. The bank notes that gold "will be supported primarily by growing demand for defensive assets, with a slower pace of Fed rate hikes in 2019 boosting demand only marginally," as quoted by Forbes.
Technically, after a slight pull back in gold prices in March 2019, it appears it has found support and is just beginning to pivot higher. It's quite possible that Gold could rally back to $1,345, near-term.
Special Bonus Gift: Can you really Control 100 shares of AAPL for less than $20 bucks?
That's the power of trading options. In the past, trading options was risky or confusing. Not anymore. This guide – Simple Options Trading For Beginners – reveals a safe, simple and sane way to trade options. Perfect for beginners.