These ETFs Can Benefit from Farm Bill 2018
---
It may be a controversial topic for some.
But it's tough to overlook the cannabis industry's potential to generate up to $20 billion in sales by 2022 from just $800 million this year.
And it's tough to overlook the fact that it could become legal across the U.S. on January 1, 2019, sparking massive growth in the cannabis space.
All thanks to the Farm Bill 2018.
Senate Approves $867 Billion Farm Bill
In early December 2018, Congress voted to approve a $867 billion farm bill with a vote of 386-47 in the House. The Senate approved it with a vote of 87-13.
The biggest benefit of the bill – it'll legalize the production, sale, and distribution of industrial hemp – a form of cannabis without the intoxicating properties. Congress will also remove hemp as a Schedule I drug under the Controlled Substances Act.
Also, much of the push to legalize hemp also comes from the fact that it contains CBD, the cannabis compound that holds multiple health benefits.
---
The End of a Prohibition
Learn How Average Americans are Becoming Marijuana Millionaires!
GET THE FULL REPORT HERE!
---
CBD is Already Disrupting Multi-Billion-Dollar Industries
The medical community is studying it for a variety of ailments -- pain, nausea, loss of appetite, Parkinson's disease, inflammatory bowel disease, post-traumatic stress disorder, epilepsy, and multiple sclerosis and even traumatic brain injuries -- the list goes on.
Cigarette maker Altria just took a 45% stake in Cronos Group, as it seeks to diversity its business, as cigarette smoking falls to its lowest point in history.
Alcohol companies like Constellation Brands invested $4 billion in Canopy Growth.
"We believe alcohol could be under pressure for the next decade, based on our data analysis covering 80 years of alcohol and 35 years of cannabis incidence in the US," analysts at Cowen noted, as quoted by CNBC. "Since 1980, we have seen 3 distinct substitution cycles between alcohol and cannabis; we are entering another cycle."
It's also disrupting a $3.7 trillion global wellness industry.
In fact, the healing properties of marijuana are why spa, wellness and skincare industries are introducing a range of products with cannabis as a key ingredient.
All it needs is a signature from President Donald Trump, expected this week and the industry could explode. Stay tuned for more on this developing story. It's a hot one.
One of the best ways to gain exposure to the boom is with a well-diversified ETF with plenty of cannabis holdings.
ETFMG Alternative Harvest ETF (MJ)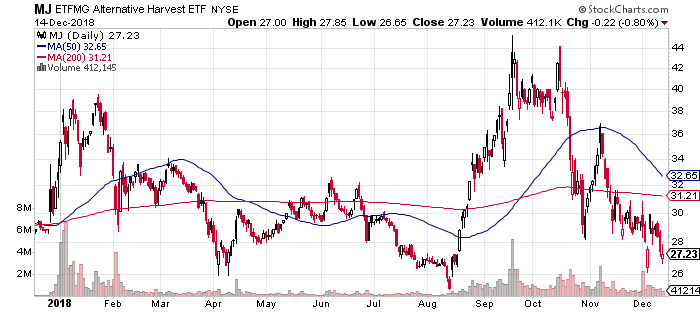 The ETFMG Alternative Harvest ETF (MJ) offers investors access to the Canadian and global marijuana sector. The fund tracks an index of stocks across the globe that are engaged in the legal cultivation, production, marketing or distribution of cannabis products for either medical or nonmedical purposes.
MJ also holds stocks of companies that trade or produce tobacco or tobacco products, or fertilizers, plant foods, pesticides or growing equipment for cannabis or tobacco. In addition, the fund can hold pharmaceutical companies that produce, market or distribute drug products that use cannabinoids. MJ has holdings in Canopy Growth, Aurora Cannabis, Cronos Group Inc., GW Pharmaceuticals, and OrganiGram Holdings for example.
Horizons Marijuana Life Sciences Index ETF (HMLSF)
The Horizons Marijuana Life Sciences Index ETF seeks to replicate, to the extent possible, the performance of the North American Marijuana Index, net of expenses.
The Index is designed to provide exposure to the performance of a basket of North American publicly listed life sciences companies with significant business activities in the marijuana industry. It has holdings in Aurora Cannabis, Canopy Growth, Aphria Inc. Cronos Group, and CannTrust Holdings for example.
Bonus Report: Turn a Small Stake into a Fortune:
A new earth-shattering government announcement could completely change the legalization of marijuana - forever. In fact, thanks to this historic legislation, tiny pot stocks trading for under $5 are getting set to double, triple, or quadruple. In an exclusive interview with Money Morning, pot stock expert Michael Robinson shares all the good news - including details on five tiny weed stocks that could potentially turn a small stake into $100,000. CLICK HERE TO CONTINUE.