Trade War 2018: The "Blood in the Streets" Opportunities
---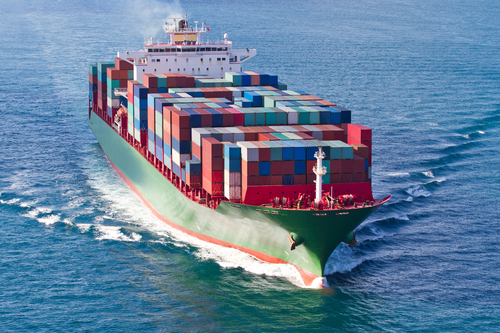 Oh yes, there will be blood.
But if you know where to pounce when the bleeding stops, you're one step ahead of the herd. There's little doubt trade war fears were painful in late June 2018.
But at some point, the bleeding will stop and opportunities will be noticeable.
Apple (AAPL) for example, which depends on China to produce its iPhone and other popular products. In fact, about 20% of its revenue came from China in the most recent fiscal year. It also shipped more than 41 million iPhones to China. And while smartphones may not be hit with levies, there are concerns that trade war tensions could impact Apple suppliers, risking delays.
Apple fell from $195 to $182 on the fear.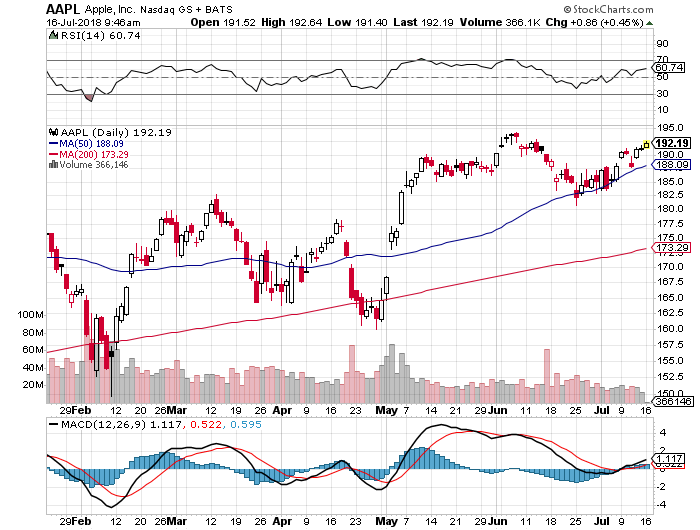 ---
Free "dummies guide" to trading options
Did you know trading options can actually be safer and more profitable than buying and selling stocks?
Best-selling author reveals his simple & safe way to start trading options in this FREE GUIDE. It's 100% free until the end of the month.
---
Boeing (BA) and Caterpillar (CAT), which fell from $160 to $137, are facing headwinds with sales from China. In fact, our tariffs on steel and aluminum hit the margins of those companies by raising the price of the raw materials they use to build their airplanes for example. Further retaliation from China in this situation could limit their ability to sell products in China, damaging revenue.
Even consumer goods stocks have taken a hit.
Nike (NKE) for example saw 15% of its revenue come from China in 2017. Its stock fell from $76 to $72 on fear.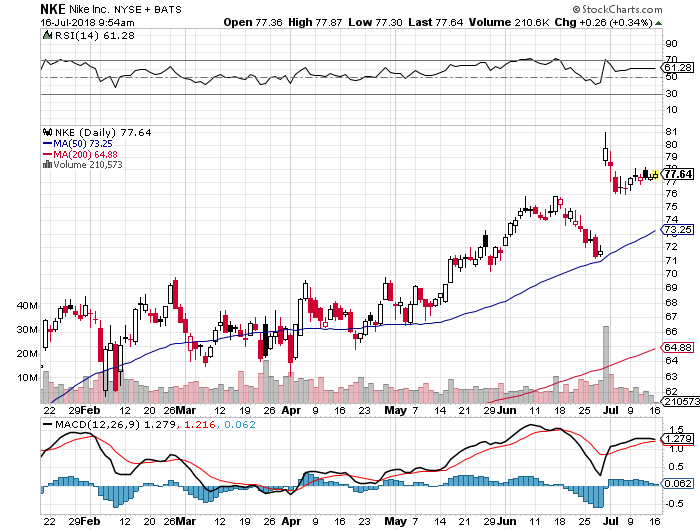 Tech stocks that derive up to 50% of their revenue from China, as of 2017 include Skyworks Solutions (SWKS), Qualcomm (QCOM), Broadcom (AVGO) and Micron Technology (MU).
Daimler Chrysler just lowered it earnings outlook for the year, citing increased import tariffs for U.S. vehicles in the Chinese market. In fact, according to the company:
From today's perspective, the decisive factor is that, at Mercedes-Benz Cars, fewer than expected SUV sales and higher than expected costs - not completely passed on to the customers - must be assumed because of increased import tariffs for US vehicles into the Chinese market. This effect cannot be fully compensated by the reallocation of vehicles to other markets. As another decisive factor, a negative effect on earnings is to be expected in the second half of the year in connection with the new certification process WLTP (Worldwide Harmonized Light Vehicles Test Procedure). Furthermore, earnings at Mercedes-Benz Vans are affected in connection with the recall of diesel vehicles. Additionally, earnings at Daimler Buses are negatively affected by the declining demand in Latin America.
Even BMW just noted that it was looking at "strategic options" in the trade war fiasco.
Tesla (TSLA) is seeing an impact, as well with China accounting for 17% of sales. While that may not sound significant, consider that China's electric vehicle mandates and growing population of wealthier consumers has the potential to become a major market for Tesla.
However, when and if trade war tensions cool, current losers could become "blood in the streets" opportunities for investors in the know.
Bonus Report: Can you really Control 100 shares of AAPL for less than $20 bucks? That's the power of trading options. In the past, trading options was risky or confusing. Not anymore. This guide – Simple Options Trading For Beginners – reveals a safe, simple and sane way to trade options. Perfect for beginners.