American Baby Boomers Are Sending These Stocks Higher
---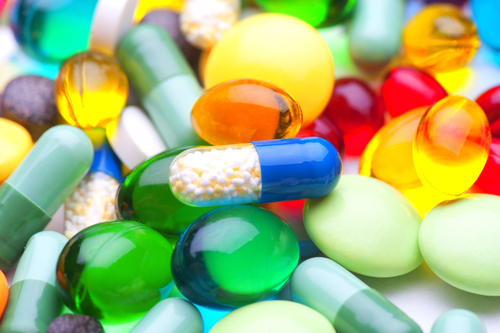 Over the last 10 years, the greatest investment opportunities have been found in the biotech and pharmaceutical sector. For proof, just look at related ETFs.
In fact, over the last decade:
- The iShares NASDAQ Biotech ETF (IBB) ran from $20 to $111.
- The Pro Shares Ultra NASDAQ Biotech (BIB) ran from $5 to $58.
- The SPDR Biotech S&P (XBI) ran from $13 to $97.
- The Van Eck Vectors Pharmaceuticals ETF (PPH) ran from $18 to $60
And to be very honest with you, that growth may not slow for quite some time for three reasons.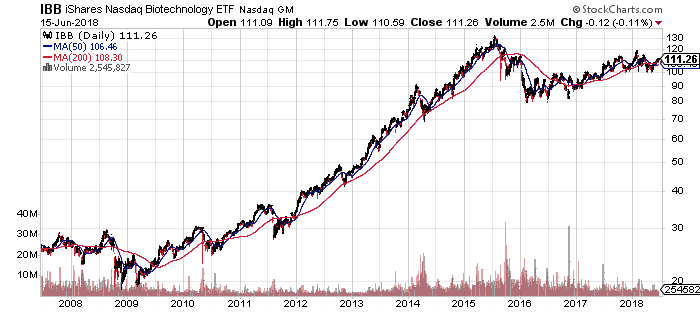 ---
Free "dummies guide" to trading options
Did you know trading options can actually be safer and more profitable than buying and selling stocks?
Best-selling author reveals his simple & safe way to start trading options in this FREE GUIDE. It's 100% free until the end of the month.
---
Reason No. 1 – Mergers and Acquisitions
In 2017, biotech mergers soared 27%, reaching $332 billion in value. Bain & Co. analysts forecast that the soaring trend will extend through 2018.
Then, in just the first quarter of 2018, merger activity rose 16% year over year. Merger activity is likely to push production rates higher and raise industry profits. Celgene's agreed takeover of Impact Biomedicines in a deal worth up to $7 billion, Takeda Pharmaceutical's plan to buy TiGenix for $630 million, and a recent announcement that Sanofi will buy Ablynx for $4.8 billion got 2018 off to quite a start, according to Reuters.
Better yet, according to consultancy firm EY, we could see $200 billion worth of deals in 2018.
Reason No. 2 – Impressive New Innovation
"The sector is really vibrant at the moment with exciting tech that can deliver medicines to patients in new ways like gene and cell therapy," said Polar Capital portfolio manager David Pinniger, as quoted by International Adviser.
Or look at Fate Therapeutics (FATE), for example, which is running on news that a patient was treated in a Phase I study combining FATE-NK100 with either Herceptin or Erbitux (both monoclonal anti-body chemotherapies used in cancer treatment) to treat advanced solid tumors. While it's still too early to judge potential success of the drug combination, analysts believe it holds significant promise in treating cancer. There's hope the combination of the FATE-NK100 therapy with other monoclonal drugs could be quite effective.
We're even seeing advancements in gene editing, which researchers hope to use to correct gene mutations, and potentially cure disease. That's why stocks like CRISPR Therapeutics (CRSP) Editas Medicine (EDIT) and Intellia Therapeutics (NLTA) were such high fliers.
And of course, we can't forget about catalyst No. 3, our aging population.
Reason No. 3 – Our Aging Population
Right now, there are 65 million people over the age of 70 in the United States. As this number continues to grow, we'll see a need for more medication and treatment options. That's a significant amount of potential demand. These three catalysts alone are contributing to a multi-year boom that's not likely to fade any time soon.
We can clearly see this group's impact on stocks.
The $19.3 billion stock, LabCorp (LH) for example is the world's leading diagnostics firm. It operates its own network of medical laboratories, providing services like blood tests, urinalyses, and at-home testing kits. Its stock just ran from $120 to $189 just in the last two years.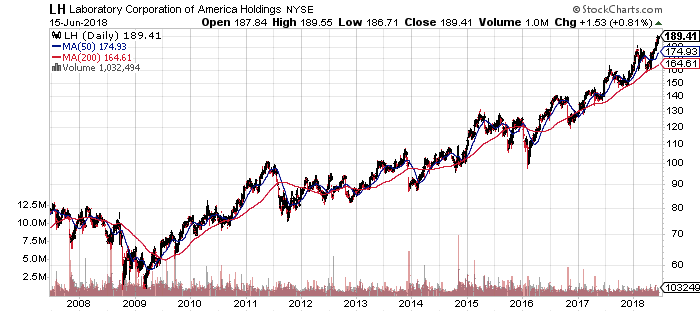 We can see further growth in stocks like Boston Scientific (BSX), which manufactures medical devices such as pacemakers, catheters, and stents. This stock just ran from $16 to $36 just in the last two years.
And as America's baby boomers age, related stocks should continue to climb.
While it can be argued that the sector is speculative and higher risk, we can't ignore these three extremely powerful catalysts that don't appear to be fading any time soon.
Bonus Report: Can you really Control 100 shares of AAPL for less than $20 bucks? That's the power of trading options. In the past, trading options was risky or confusing. Not anymore. This guide – Simple Options Trading For Beginners – reveals a safe, simple and sane way to trade options. Perfect for beginners.