Augmented Reality: A Booming $60 Billion Industry that Cannot Be Ignored
---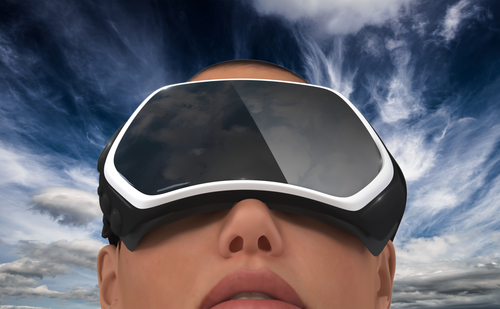 Analysts strongly believe augmented reality will boom in 2018.
Between virtual realities, which create immersive computer-generated environments, augmented reality can create near-real world reality with graphics, sounds, and even smell. It can literally change human perception of the surrounding space when a digitally augmented human interacts with a data sources, as noted by Network World.
Look at Pokemon Go for example to see how excited folks are for the technology.
"Pokémon Go represents one of those moments when a new technology — in this case, augmented reality -- which fuses digital technology with the physical world — breaks through from a niche toy for early adopters to something much bigger. The idea behind the technology is to overlay digital imagery on a person's view of the real world, using a smartphone screen or a headset," noted The New York Times.
---
Free "dummies guide" to trading options
Did you know trading options can actually be safer and more profitable than buying and selling stocks?
Best-selling author reveals his simple & safe way to start trading options in this FREE GUIDE. It's 100% free until the end of the month.
---
Helping a bit recent launches and developments from Apple, Google, Facebook and Snap Chat for instance are making things a bit more exciting not only for consumers but investors, too.
Granted, mass adoption of AR won't happen for quite some time.
However, the demand for such technology has been nothing short of explosive.
According to Evening Standard:
It's all about numbers rather than demand – the number of VR units in the world currently sits around 82 million, but with augmented reality tech found in most smartphones, AR units in the world peak at over three billion. With that many devices already in people's hands, you have a nice recipe for innovation and disruption in several sectors. Depending on whom you ask, the AR industry is worth between $30–162 billion.
Even more impressive, the number of AR users could exceed one billion in 2018, according to Deloitte. The firm is predicting that billions of smartphone users will download apps or operating system updates that will allow them to create their own AR content.
As a result of the booming technology, stocks like Himax Technologies (HIMX) have staged quite a run, surging from a February 2017 low of $4.81 to a December 2017 high of $14. Better yet, the CEO has noted that AR is "just the beginning of a long-term growth story" for the company.
Even more impressive, research firm IDC believes a combined augmented and virtual reality market could grow by more than 180% in the next three years to nearly $60 billion from $5 billion this year. Consider what would happen if HIMX was exposed to just 5% of that market. We can assure you it'd be far from its current market cap of $1.2 billion.
Bonus Report: Can you really Control 100 shares of AAPL for less than $20 bucks? That's the power of trading options. In the past, trading options was risky or confusing. Not anymore. This guide – Simple Options Trading For Beginners – reveals a safe, simple and sane way to trade options. Perfect for beginners.