How the Opioid Crisis is Impacting Stocks
---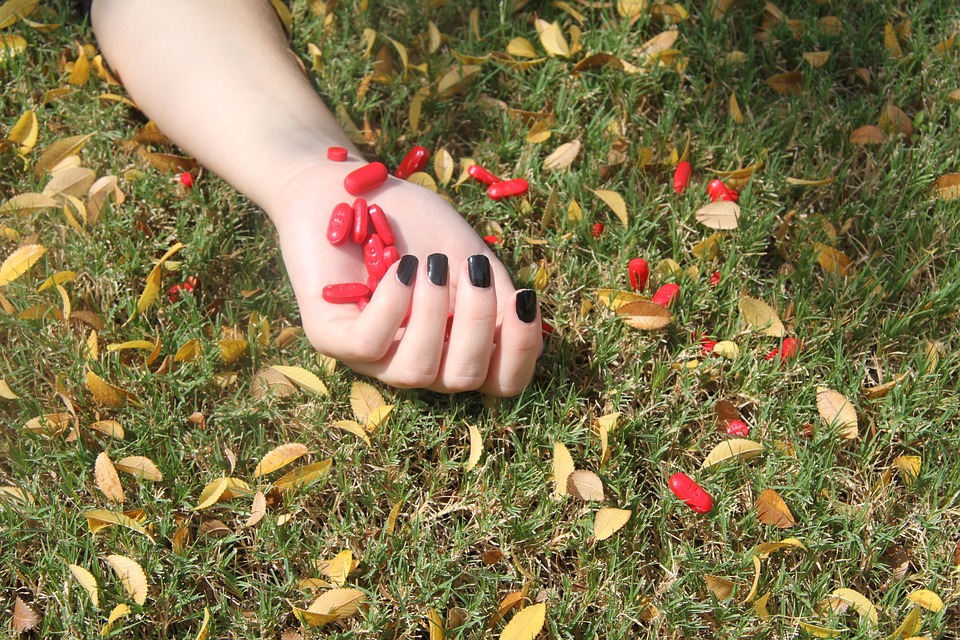 It's one of the worst epidemics to hit the United States.
At any given time more than 2.4 million Americans abuse opioids, including legal painkillers like morphine, oxycodone, and hydrocodone.
In 2016 alone, opioids killed more than 42,000 people, more than any year on record.
It's why President Donald Trump declared the opioid crisis a "public health emergency."
And while members of Congress complained they weren't seeing much action on the issue in early 2018, the President announced in March 2018:
"The Administration is going to be rolling out policy over the next three week, and it will be very, very strong. I've also spoken with [Attorney General] Jeff [Sessions} about bringing a lawsuit against some of these opioid companies," as quoted by NPR.
---
Free "dummies guide" to trading options
Did you know trading options can actually be safer and more profitable than buying and selling stocks?
Best-selling author reveals his simple & safe way to start trading options in this FREE GUIDE. It's 100% free until the end of the month.
---
Even better, the President hosted the White House Opioid Summit, where he said he was considering whether to make trafficking large quantities of fentanyl a capital crime because of the drugs' potential to kill so many.
The Department of Health and Human Services noted:
"This year and last, we're issuing $500 million in targeted response grants to state governments, which cover prevention and treatment but also recovery support," HHS Secretary Alex Azar said during a panel discussion at the summit, as quoted by Medscape. "We are also working on a $150 million grant program for rural treatment."
Congress took steps to fight the issue, as well.
In fact, in the House, eight bills had been introduced by March 2018 with a goal of expanding treatment options and clamping down on illegal drugs like fentanyl, according to the Washington Examiner. The Senate wants to rein in on prescriptions written by doctors. That news came just weeks after Congress passed a budget deal to add $6 billion over two years to fight opioid abuse.
As the President and Congress ramp up the fight against opioids, related stocks began to move.
In March 2018, for example, the FDA accepted Pain Therapeutics (PTIE) REMOXY – the company's lead pain relief, abuse-deterrent candidate for review, and even set a PDUFA date of August 7, 2018. The stock would run to a high of nearly $7.50 shortly after.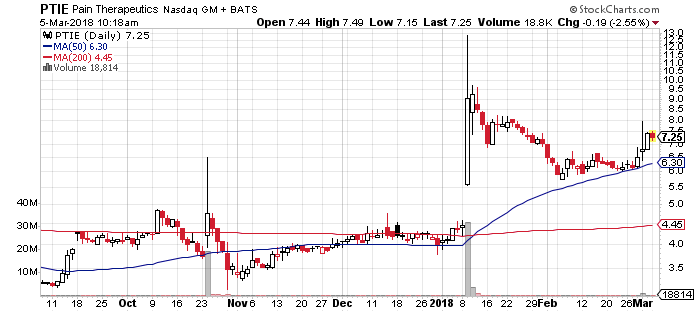 Even Alkeremes Inc. (ALKS) began to see interest.
One of ALKS' leading drugs – Vivitrol – treats opioid addiction. And CEO Richard Pops strongly believes, "the bet days of Vivitrol are still ahead of it. It's building into becoming one of the more important medicines for the treatment of this condition."
As CNBC reports, "The injection is meant for detoxed patients who want to avoid relapsing to physical dependence on opioids, a treatment long viewed as an "outlier" next to more traditional medicines." And, as the number of related deaths rises, the company is beginning to see the drug take center stage as a "reliable and effective treatment."
It's just something to keep in mind, as the crisis remains.
Bonus Report: Can you really Control 100 shares of AAPL for less than $20 bucks? That's the power of trading options. In the past, trading options was risky or confusing. Not anymore. This guide – Simple Options Trading For Beginners – reveals a safe, simple and sane way to trade options. Perfect for beginners.