This Commodity Deserves a Closer Look
---
The cobalt story was hotter than lithium.
Supply was extremely tight, and only expected to get worse.
Demand was growing stronger by the day. And without it, we don't' have batteries for billions of cell phones, electric cars and even your laptop.
Imagine a world without your cell phone – the horror!
Worse, analysts were projecting deficits of 885 tons over the next year, 3,205 in 2019 and 5,340 by 2020, increasing the deficit by 503%, creating one of the greatest opportunities we've seen in quite some time.
More importantly, panic over supply has already begun. Worse, the cobalt market is relatively small. Only 93,000 metric tons were produced in 2016.
It's why the price of cobalt is up 180% year over year, and only likely to move higher. Not only is supply a big issue but so is demand. For example, cobalt is critical to the creation of electric vehicles (EV), making up 42% of a lithium-ion battery.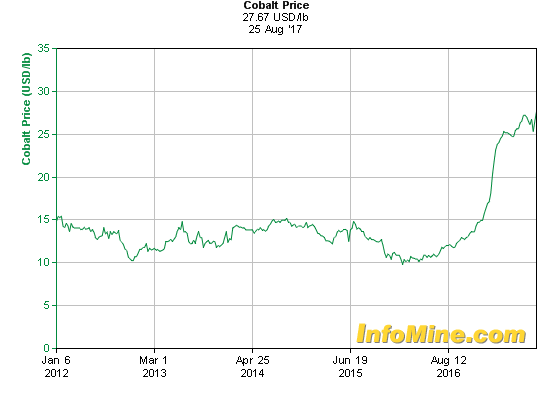 ---
The End of a Prohibition
Learn How Average Americans are Becoming Marijuana Millionaires!
Get the Full Report Here!
---
Without cobalt, there are no electric vehicles.
In fact, according to The Financial Times:
"It has become more apparent that cobalt supply could be the choke point for the mass production of electric vehicles that are capable of replacing the standard car or light truck. Cobalt is a critical component for the high energy and power versions of lithium-ion batteries."
With Tesla looking to sell up to 500,000 of these vehicles a year, we have a supply crunch on our hands, and higher cobalt prices.
Worse, according to The Financial Times:
"There is not enough cobalt production from existing mines, or mines under construction, to meet the demand projected by Tesla along with Chinese and European auto manufacturers over the next five years. And it usually takes a lot longer than five years to bring a new mine into production once the sponsors have made the initial commitments."
In short, there are a lot of companies competing for a limited amount of supply.
Another big obstacle is the fact that 60% of the world's reserves are in the Democratic Republic of Congo. Considering that the number of people displaced by excessive violence in that region – 3.8 million – and the metal becomes that much harder to obtain.
It's why the price of cobalt was only expected to run higher.
Bonus Report: With the legal marijuana in its infancy, there are multiple opportunities in this sector that are yielding very impressive returns. Click Here for the full report.