December 2019 Tariffs Could Derail Hopes for a Trade War Resolution
---
We have a trade deal with China, blared the U.S. in October 2019.
However, while trade tensions appeared to be cooling off, investors quickly realized nothing had been finalized. Nothing was written or signed. All we had was a promise that an agreement would be written and signed by November 2019.

With only a handshake, the U.S. delayed 30% tariffs on $250 billion worth of Chinese goods. China agreed it would address intellectual property and financial issues with the U.S., and buy $40 billion to $50 billion worth of U.S. agricultural goods.
Unfortunately, a handshake isn't enforceable, and China wanted more before finalizing.
In fact, China wanted another round of meetings with the U.S. before any agreement was written, or signed. And they wanted to ensure that December 2019 tariffs were also removed.
At the moment, the current deal doesn't address tariffs on $160 billion scheduled for December. "The Chinese don't want Xi to move forward with this initial phase or this initial detente if they don't get rid of the December tariff threat as well," said Stephen Myrow, managing partner at Beacon Policy Advisors, as quoted by The Hill.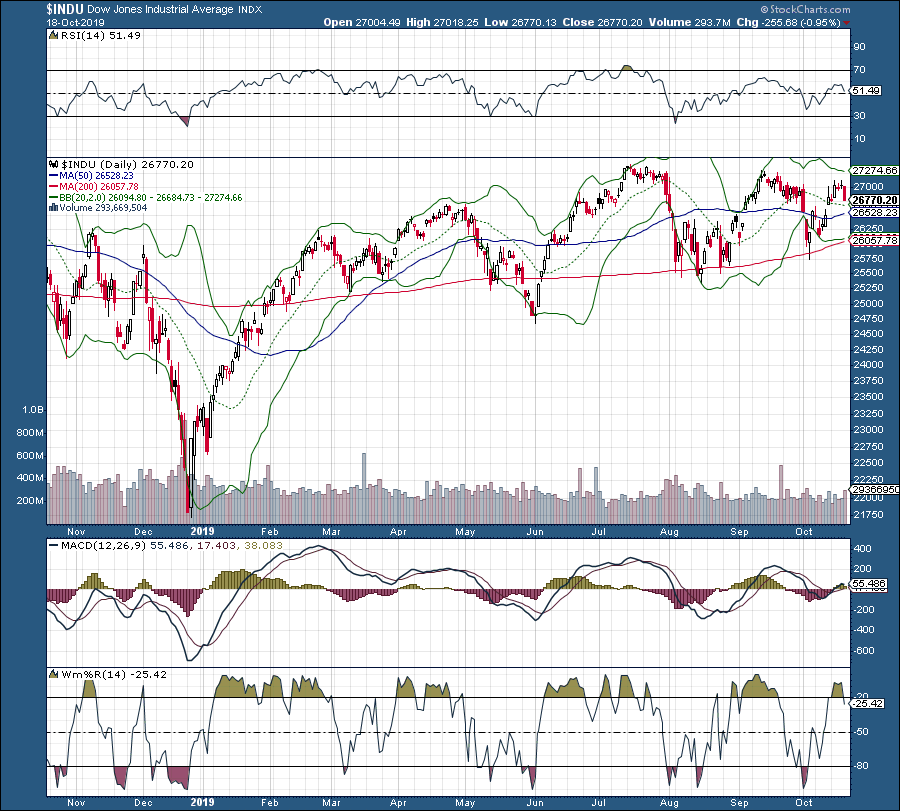 ---
Free "dummies guide" to trading options
Did you know trading options can actually be safer and more profitable than buying and selling stocks?
Best-selling author reveals his simple & safe way to start trading options in this FREE GUIDE. It's 100% free until the end of the month.
---
"No matter what they sign, they don't really trust Trump."
In addition, the press in China isn't ready to pop the champagne cork either.
"While the negotiations do appear to have produced a fundamental understanding of the key issues and the broader benefits of friendly relations," reported China Daily, "the Champagne should probably be kept on ice, at least until the two presidents put pen to paper, as based on its past practice, there is always the possibility that Washington may decide to cancel the deal if it thinks that doing so will better serve its interests."
However, there's another problem.
If the U.S. doesn't take the December tariffs off the table, China could easily walk away from the current deal, which could send markets spiraling lower. In addition, the trade war could intensify from that point on. In fact, Treasury Secretary Steven Mnuchin said he expects for December tariffs to increase if there is no deal with China.
That could be crippling for all involved. But as with all trade war issues, it's a wait and see.
If there's no deal, the war could continue well into the 2020 presidential election.
Investors also fear China could just wait this out, and hope for a new president in the 2020 election. However, analysts note such a strategy could backfire significantly on China.
"Beijing is about to make another epic miscalculation," Michael Every, senior Asia-Pacific strategist at Rabobank said, as quoted by Business Insider. "Trump ALWAYS escalates when put under pressure, and has never shown anything so far but a tendency to raise tariffs when disappointed. If China thinks Trump is going to crumble now just because he faces possible impeachment, they are about to get a very nasty surprise — and hence so are markets."
It'll be interesting to see who's left standing at the end of this.
Special Bonus Gift: Can you really Control 100 shares of AAPL for less than $20 bucks?
That's the power of trading options. In the past, trading options was risky or confusing. Not anymore. This guide – Simple Options Trading For Beginners – reveals a safe, simple and sane way to trade options. Perfect for beginners.