These Technical Indicators Warned us of the Dow Jones' Decline Beforehand
---
In early October 2019, markets plummeted.
The Dow Jones fell 800 points in just two days on trade war fears, impeachment news, and slowing growth. The ISM September 2019 survey pointed to contraction at less than 50.
On top of that, hiring in the private sector was showing signs of slowing, as well.
"We are in a very critical place, kind of a fragile juncture in the economy," Mark Zandi, chief economist at Moody's, said as quoted by CNBC. "What happens over the next few weeks, next few months, will determine whether there's an economic downturn in 2020. Demand for labor is beginning to weaken. Hiring is weakening across the board."
Even though none of us could have known such negative market news would hit, we had the ability to prepare for the possibility of downside simply by watching our technical markers.
Look at the Dow Jones Industrial Average (DJIA), for example.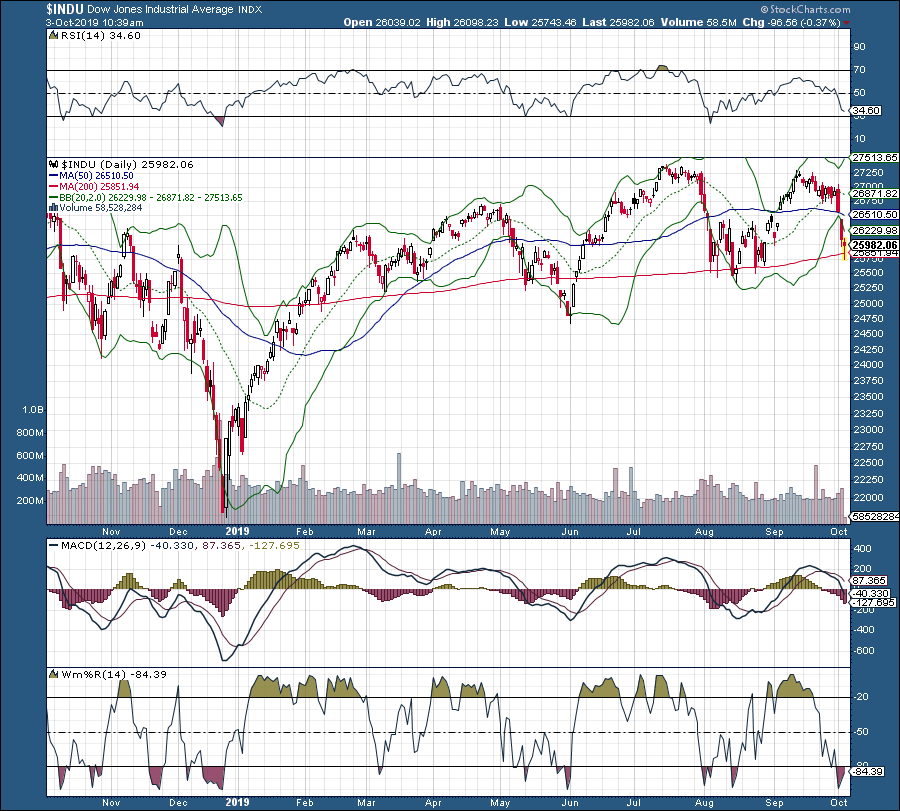 ---
Free "Dummies Guide" to Trading Options
Did you know trading options can actually be safer and more profitable than buying and selling stocks?
Best-selling author reveals his simple & safe way to start trading options in this FREE GUIDE. It's 100% free until the end of the month.
---
Before the ISM news hit the wires, the DJIA was severely overbought – and ready to reverse.
In fact, it was quite easy to see. All we had to do was watch our key technical pivot points, including Bollinger Bands (2,20), MACD, relative strength (RSI), and Williams' %R along with other glaring issues. For one, if we look at a three-year of the DJIA, we can see the Dow was at major resistance dating back to early 2018.
Two, our technical indicators severely overbought.
If we now look at a two-year chart of the DJIA, we can clearly see that, as well. Not only was the DJIA struggling and overbought at its upper Bollinger Band (2,20), RSI was beginning to pivot lower after nearing its 70-line. MACD had become over-extended at prior highs.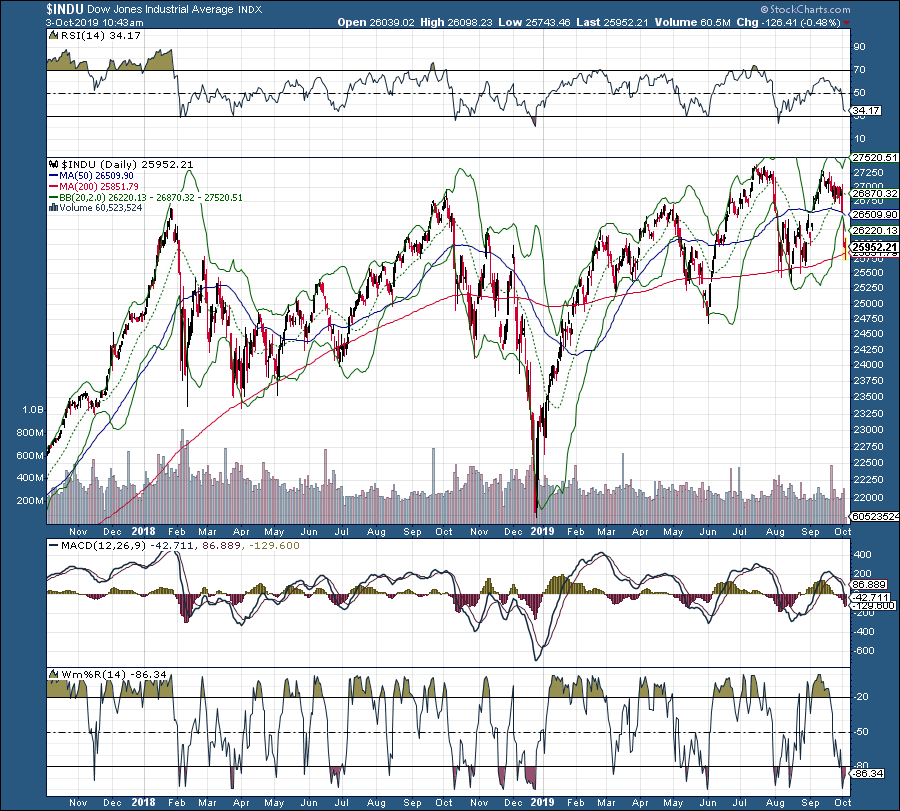 Even Williams' %R was well above its 20-line, telling us the market was wildly overbought.
It'll be interesting to see what happens from here.
While the DJIA has now become wildly oversold after an 800-point drop, the DJIA falling knife just pierced the 50-day moving average with a good deal of negative momentum. Also, should the DJIA fail to hold prior support at 25,500 – it could test prior resistance just under 25,000.
While no one could have predicted such a big decline in two days, we at least had a warning sign thanks to our technical pivot points.
Special Bonus Gift: Can You Control 100 shares of AAPL for less than $20 bucks?
That's the power of trading options. In the past, trading options was risky or confusing. Not anymore. This guide – Simple Options Trading For Beginners – reveals a safe, simple and sane way to trade options. Perfect for beginners.