Top Stocks to Watch When Trade War Tensions Ease
---
There's a collective sigh of relief in the markets.
Days after Trump threatened to cut off Huawei on August 19 , 2019, he changed his tune in August 2019. In fact, the Trump Administration extended a reprieve to Huawei, allowing it to buy supplies from US companies so that it can continue servicing existing customers.
An extension will renew an agreement set to lapse on August 19, continuing the Chinese company's ability to maintain existing networks and provide software updates to Huawei handsets, says Reuters.
This would now extend the agreement another 90 days out to late November 2019.
"There is another 90 days for the U.S. telecom companies, some of the rural companies are dependent on wild ways," Wilbur Ross said, as quoted by Fox Business. "So, we're giving them a little more time to wean themselves off."
All of this followed the Administration's news that it would delay the 10% tariff on $300 billion worth of consumer goods in what appeared to be a panicked response to the market's vicious selloff. Now, instead of going into effect on September 1, 2019, those tariffs won't start until mid-December if at all at the moment. Better, at the time, Trump did say he had a call scheduled "very soon" with China's President Xi Jinping over trade.
"We're talking by phone and we're having very productive talks. They would like to do something, I will tell you that," said the President as quoted by the South China Morning Post.
---
Free "dummies guide" to trading options
Did you know trading options can actually be safer and more profitable than buying and selling stocks?
Best-selling author reveals his simple & safe way to start trading options in this FREE GUIDE. It's 100% free until the end of the month.
---
Bank Stocks Likely to Recover from Easing Tensions
Trade war fears created sizable fears of a recession. It's also part of the reason the 2/10 yields inverted so severely in August 2019, which sent bank stocks down. However, with tensions apparently cooling with the latest news, the yield curve was no inverted, and excessively oversold bank stocks began to recover.
Some of the most oversold bank stocks at the time included:
- Bank of America (BAC)
- BB&T Corporation (BBT)
- Wells Fargo & Co. (WFC)
At the time, investors also began to flock to the Financial Select Sector SPDR (XLF), which holds some of the top financial stocks, including Berkshire Hathaway, JP Morgan Chase & Co., Bank of America, Wells Fargo & Co., and American Express.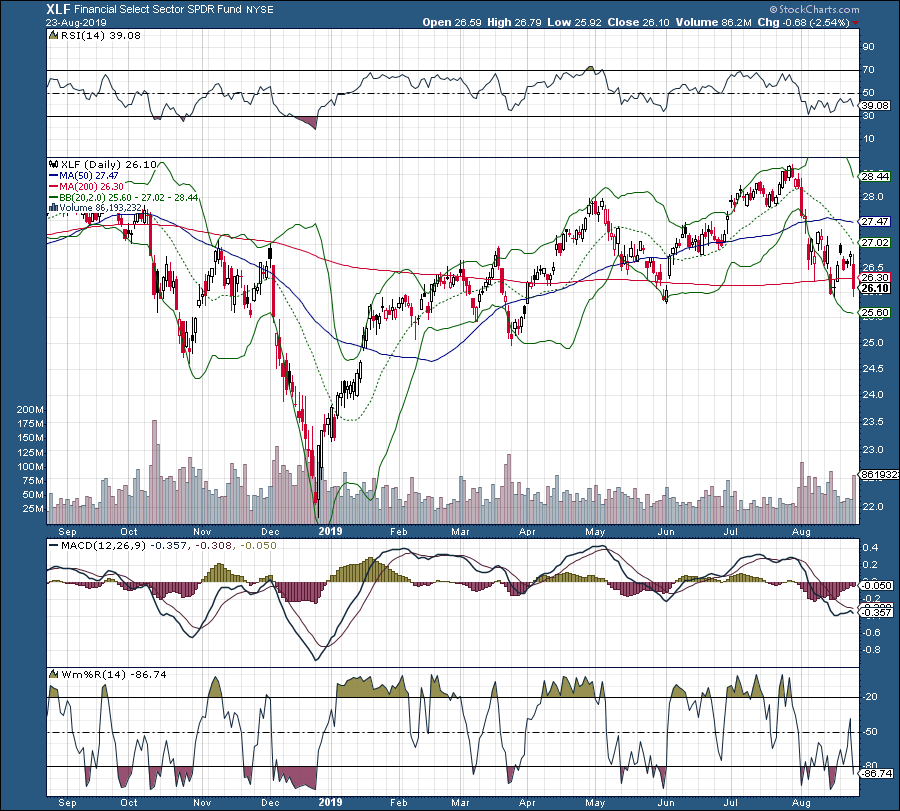 The best part – the XLF ETF trades at just $26.58.
If we were to buy 100 shares of XLF, it would cost us $2,658 with a good deal of diversification among top financial stocks.
If we were to buy 100 shares of just BAC, BBT, and WFC, it would cost us $11,906.
Most investors would rather pay just $2,658 and get better diversification for less cost.
Special Bonus Gift: Can you really Control 100 shares of AAPL for less than $20 bucks?
That's the power of trading options. In the past, trading options was risky or confusing. Not anymore. This guide – Simple Options Trading For Beginners – reveals a safe, simple and sane way to trade options. Perfect for beginners.