The Top Cybersecurity ETFs to Watch
---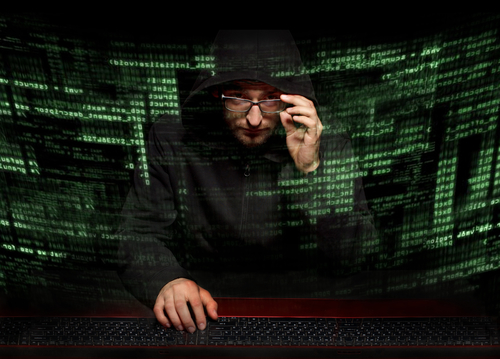 A few keystrokes are all it takes. All of a sudden, your most private information is in the hands of criminals. Your most personal information, banking details, social security numbers, your children's information. Yet, we're not prepared as it gets worse.
Already, our digital over-dependence means that our risk is greater than ever before with new attacks surfacing all the time. Just in case you think hackers can't get to you, it's already happened. They've already been in your computer, accessing your most vital information.
More than 140 Equifax customers just learned that the hard way.
---
Free "Dummies Guide" to Trading Options
Did you know trading options can actually be safer and more profitable than buying and selling stocks?
Best-selling author reveals his simple & safe way to start trading options in this FREE GUIDE. It's 100% free until the end of the month.
---
A Hacker Also Gained Access to 100 Million Capital One Credit Card Applications
While you'd think companies were better prepared for such situations, they're not.
In one of the biggest data breaches in history, more than 100 million Capital One customer accounts and credit card applications were hacked. In fact, according to CNN, Paige Thompson is accused of breaking into the company's server and accessing 140,000 social security numbers, a million Canadian insurance numbers, and 80,000 bank account numbers.
The company said the hack happened in late March 2019, and said it fixed the vulnerability. The company also noted that it was "unlikely that the information was used for fraud or disseminated by this individual," as quoted by CNN.
While we're hopeful the hack didn't cause any long-lasting chaos for customers, it will cost the company between $100 million and $150 million in 2019, says CNBC.
It's all just a reminder that no one is safe from being hacked.
It's just another reason cybersecurity stocks and ETFs have been so popular among investors.
Pure Funds ISE Cyber Security ETF (HACK)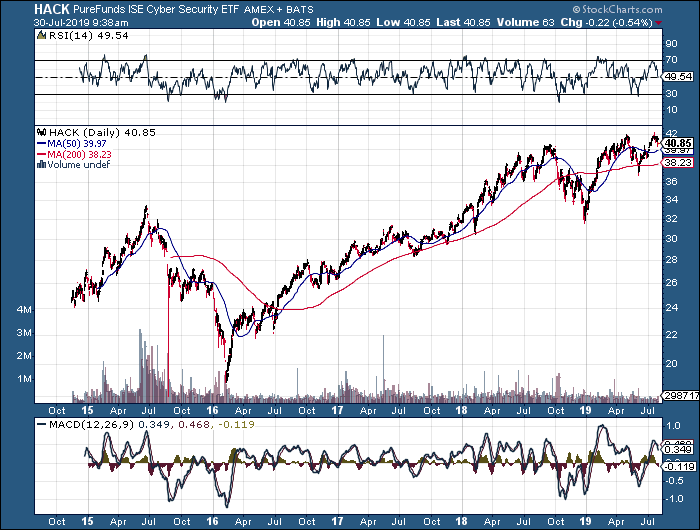 We can also look at the Pure Funds Security ETF (HACK), which jumped from a 2016 low of $19 to nearly $42 this year. It's sure to draw more interest especially as threats worsen. The ETF has holdings in Fortinet Inc., Check Point Software, CyberArk Software, Imperva Inc. FireEye, Proofpoint and dozens more.
First Trust NASDAQ Cybersecurity ETF (CIBR)
CIBR has been quite explosive, running from a 2017 low of $21 to a recent high of $30. It's also sure to draw a good deal of attention with the latest cybersecurity threats and news. Some of CIBR's top holdings include Splunk, Palo Alto Networks, Zscaler Inc., CyberArk Software, Symantec Corporation, and Fortinet Inc.
Special Bonus Gift: Can You Control 100 shares of AAPL for less than $20 bucks?
That's the power of trading options. In the past, trading options was risky or confusing. Not anymore. This guide – Simple Options Trading For Beginners – reveals a safe, simple and sane way to trade options. Perfect for beginners.