One of the Best Ways to Trade an IPO
---
Far too often, investors like you and I get burned by an IPO out of the gate.
Lyft (LYFT) was supposed to be a high-flier for investors. Instead, it plunged from $87 to $47.50. Uber (UBER) was supposed to be a great IPO, too. Instead, it plunged out of the gate.
And unfortunately, you won't always find an explosive stock like Beyond Meat (BYND), which exploded out of the gate with the best IPO of 2019.
In fact, since May 2019, the stock ran from $45 a share to more than $167. Analysts at Bernstein for example just initiated the stock with an Overweight rating, and noted that the alternative meat market could be worth more than $40.5 billion within a decade. Analysts at Research and Markets expects the market to increase from $4.6 billion to $6.4 billion by 2023.
Better yet, first quarter earnings results were better than expected.
Total revenue grew 215% in the quarter thanks to an incredible surge from restaurant distribution channels, which helped drive gross profits 424% higher. It also achieved a gross margin of 25% in the quarter as well. Even better, management issued full-year 2019 guidance calling for revenue of at least $210 million – year over year growth of 140%.
JP Morgan has an overweight rating with a $120 price target. Bernstein has an Outperform rating and a $107 target. Jefferies has a Hold rating with a $105 target. Bank of America Merrill Lynch has a neutral rating with a $101 price target.
---
Free "Dummies Guide" to Trading Options
Did you know trading options can actually be safer and more profitable than buying and selling stocks?
Best-selling author reveals his simple & safe way to start trading options in this FREE GUIDE. It's 100% free until the end of the month.
---
Instead of hoping an IPO will skyrocket out of the gate, there's an easier way.
In fact, you can own all IPOs at the fraction of the cost with the First Trust U.S. Equity Opportunities ETF (FPX).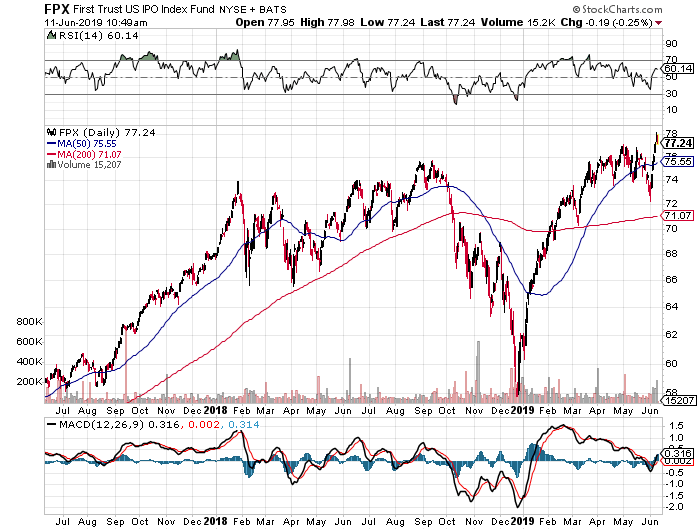 As we've noted, this is one of the safest ways to trade an IPO.
Even with some of the most obnoxious IPO failures, the ETF managed to run from a 2009 low of around $11 to a recent high of $77. It's a safer alternative than risking your hard-earned money to another potential flop. With the FPX, it doesn't matter if the stock is hot or a dud, the excitement surrounding IPOs continues to send the FPX to new highs.
The next time someone attempts to convince you to buy a "hot" IPO, watch the FPX ETF.
Special Bonus Gift: Can You Control 100 shares of AAPL for less than $20 bucks?
That's the power of trading options. In the past, trading options was risky or confusing. Not anymore. This guide – Simple Options Trading For Beginners – reveals a safe, simple and sane way to trade options. Perfect for beginners.